Welcome to SoccerFours!
PayPal payments temporarily disabled
Details

Written by Chris Hutchison
Last Updated: 20 January 2016
Created: 20 January 2016
Hi folks,
Our site's been hit by a bug which results in PayPal payments being made and them accepting your funds, but then not inserting your new registration into our system as a result.  I usually manually go through and add them as I am able, but it's happening too often now and it's too much hassle to onesy-twosy most of our PayPal payments.  I am currently in contact with the developer and hope to get it straightened out sooner than later, but until then we will have to just go with credit card transactions.   Apologies for this potentially major inconvenience!
-Chris
Winter Sessions take us to the Beach (Chalet)!
Details

Written by Chris Hutchison
Last Updated: 29 November 2015
Created: 29 November 2015
Our winter sessions start up THIS WEEK Wednesday!  We are ecstatic to be able to provide new sessions on Thursday nights at Beach Chalet!  The format is the same as usual.  Sessions at 7pm and 8pm.  We're really looking forward to playing on the brand new turf fields under the lights.  It should be magical.   We hope to see you there!
Also, we are having a Sports Basement Shopping Party THIS WEDNESDAY night 6pm-8:45pm at the Bryant Street location.  There will be pizza and beer provided for your shopping pleasure.   Everyone who makes a purchase and shows us their receipt will be entered into a raffle to win free Season Passes!   Odds of winning are pretty good, so if saving 20% on all your xmas gifts isn't enough enticement, and the free pizza and beer doesn't do it for you, maybe the (great) chance of winning a Season Pass will be a draw (pun intended).  :)
Our newsletter should be coming out in the next day or so.  Be on the looking for it to get a little more information on what's brewing at SoccerFours this winter!
Autumn-atically Fall!
Details

Written by Chris Hutchison
Last Updated: 02 September 2015
Created: 30 August 2015
What season's after Summer?  Fall!  It happens Autumn-atically.
Today officially starts SoccerFours' Autumn sessions.  It's the best time to get a Season Pass if you happen to find yourself at our sessions almost every Monday or every Wednesday.  If you show up a lot, but can't commit to every single Monday or Wednesday for any reason, you'll like flexibility of our 15 Session Passes.  They're good for either location, however these passes still require folks to sign up for each session they want to play in.  (Season Passes include automatic registration for every session on at a given location.)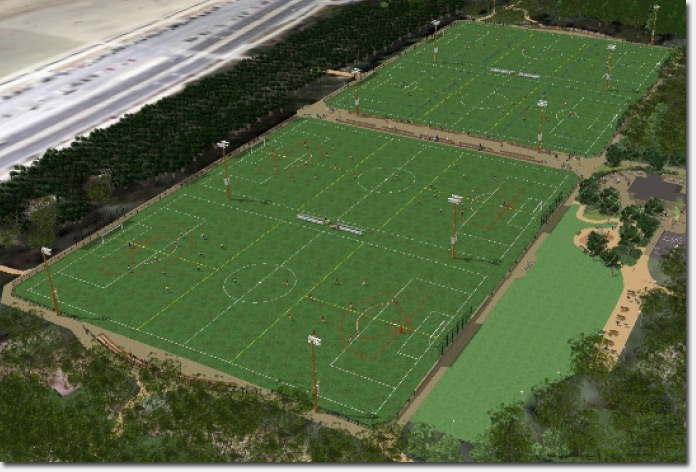 Our Wednesday sessions will continue to be SUPER!  SUPER sessions are where we have double capacity.  Instead of playing on a half pitch, we get the whole pitch and put it to use!  If you want to drop in and get some touches in, our 8pm SUPER sessions usually have spaces available for last-minute additions.  Our 7pm SUPER sessions can have spaces too, but we teeter on the verge of being full each week.  
Beach Chalet fields are currently slated for opening in December!  We plan on offering sessions there in the winter.  I'm personally excited to be there.  The atmosphere is great and the ocean air stimulating. 
Also, it's a good time to remind members that there are a couple of stores that offer discounts for SoccerFours' members.  At Sports Basement members get 10% off of all purchases.  Simply tell them you're with SoccerFours at the register to get the discount.   Also SoccerFours members receive 20% off all purchases at the Marina GNC store on Chestnut Street.  Just roll in and let them know when you're checking out.  
Have a great season!  :) 
Say Hello to Summer and SUPER Sessions!
Details

Written by Chris Hutchison
Last Updated: 12 June 2015
Created: 12 June 2015
SoccerFours takes home the trophy at America SCORES Cup 2015 
Hey Everyone!
Our Summer newsletter just went out and the big news to share is our new SUPER Sessions on Wednesday nights.  What are SUPER Sessions?  Well they're double the capacity!  No more waiting lists for anyone on Wednesday nights.  You want to play?  WE HAVE SPACE!  We've acquired the whole field for the summer and we're looking to fill it up.  Come out and join us next Wednesday the 17th!
Also in other news, there will be NO SESSIONS ON MONDAY JUNE 15th.  There was a miscommunication with SF Rec and Park and so we'll be taking a Monday off.  We start back up as usual on June 22nd!
The US' Women's World Cup is playing TONIGHT at 5pm.  They're taking on Sweden.  Let's get three points from the team being led by our former head coach!  Go USA!  For those who are interested, SF Rec and Park is showing some WWC matches (including tonight's) at Civic Center.  CHECK IT OUT!
We're also asking for folks to take a minute and vote for/suggest new bike stations at our two locations for Bay Area Bike Share.  With a bike station at our fields, it should make it that much more easy/convenient to get to sessions.  
That's all the news for now...  Have a great summer and GO USA!!